The Gallery

My Littlest Teddy Bear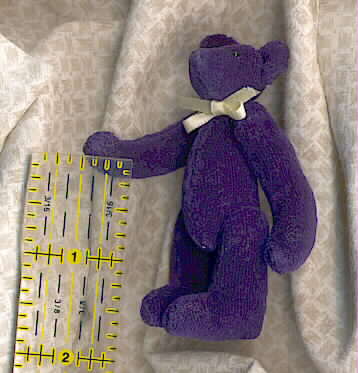 I have made teddy bears since I was a teenager and my Mom bought a box of lambskin remnants from a coat factory. I still have a couple which I will add to my website a some point. This little fellow was inspired by some mini bears my kids have been buying from the Gas Station with birthstone necklaces. I decided I would see if I could make one that small. Here is the result made of cotton velvet remnant. She has bead eyes and fully jointed arms and legs. I used a pattern from a book about making miniature teddy bears from the library. She was quite a challenge.
Year 2000 Challenges
I have been working on a couple challenges for this year. This first one is a post card challenge. The rules stated it had to be from a real postcard and finished size must be 8"x10" or smaller. The finished size of my quilt is about 6"x8". Here is the original post card and my interpretation of it. I only used fabric, no embroidery, ink or embellishments, to reproduce the card. I am enchanted with the results and have ideas for more.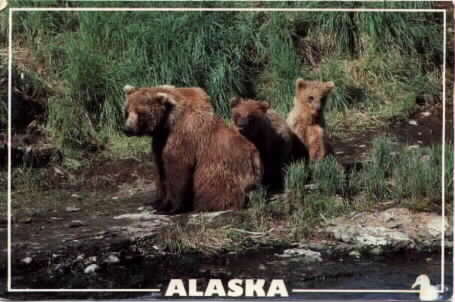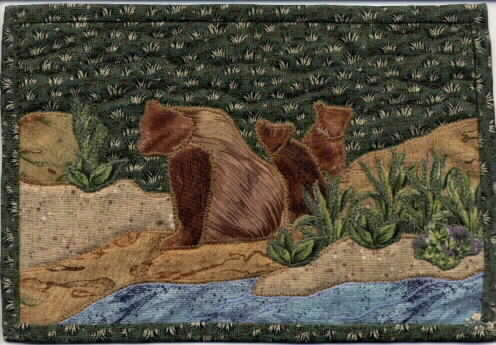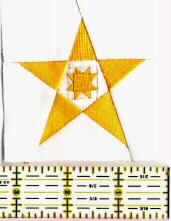 A Teeny Tiny Dear Jane Quilt
This was a personal challenge for me. All the blocks are 2 1/2" finished size. I started by making G-6 Papa's Star, just to see if I could do it. Then, totally captivated I went through the book finding other blocks to reduce. I finally settled on a plan of alternating "colored" and "white" blocks. I carefully selected a representative block for each technique found in Jane's quilt. Finally, since the brown border seemed so empty next to the center, I decided I wanted to bring the white color out into the border and designed a Celtic Interlaced applique. Once designed and executed the name for the quilt finally came to me and it became "She Speaks To My Heart". This quilt went on to win a blue ribbon in the 2000 Vermont Quilt Festival.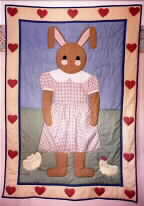 Bunny Quilt
My mother asked me to make a quilt for her good friends and neighbors who were expecting their first grandchild. I happened to see a photo of the decorated nursery and realized I had the same border in my daughters' room. I designed a quilt to coordinate with this border. It is 3 dimensional in some of the details and was quite a lot of fun to do. A Country Bunny
Quilt for a Music Teacher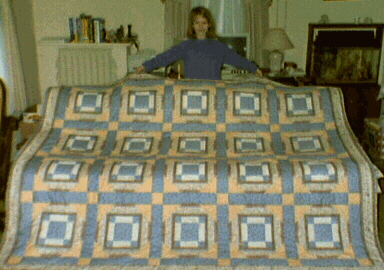 This project was an autogragh quilt made for the teacher/conductor of the Wallingford Festival Strings; a string orchestra composed of young musicians from grade school to high school. The members each signed a strip of muslin which was sewn into blocks. The fabric incorporated a music theme in the print and the finished quilt was presented to Janice Ferrar-Royce on the night before the concert. The name of the quilt is "The Stars In Her Eyes".
A Very Unusual Request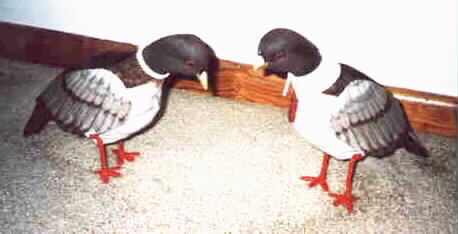 One day I received an unusual request from a Yale associate. She wanted to make a special gift for her retiring professors from her old college. They specialised in behavior study and had used pigeons as subjects for some of their work. She wanted a pair of talking pigeons!!??? OK- with the help of a electronics whiz and much brainstorming we came up with a mechanism that could record any message and would say it whenever a button in the tail was pressed. I used a Duck panel (several, in fact) and coat hanger wire for feet covered with paper ribbon stuff. Voila! Mr. and Mrs. Pigeon were born and were the hit of the retirement party!
Mystery Challenge
This challenge for 1998 specified only plaid fabrics could be used. I had never done a mystery quilt before and it was really hard to plan a quilt with no idea how it was going to look or what the pattern was. I admit I am a control freak in this area. But I collected all the light, pretty, pastel and complementary plaids I could find. That in itself was quite a challenge when most plaids tend toward dark, homespun, country type looks. I have to also admit that when I got the instructions for the last step of construction the plan became obvious to me and I fudged the stars a bit so they would all be out of the same fabric. Out of left-over fabric I designed and appliqued a border, still using plaids. It is a happy quilt that makes me smile. Still working on the quilting but hope to have it done soon. No name has stuck yet so it's just my mystery challenge quilt.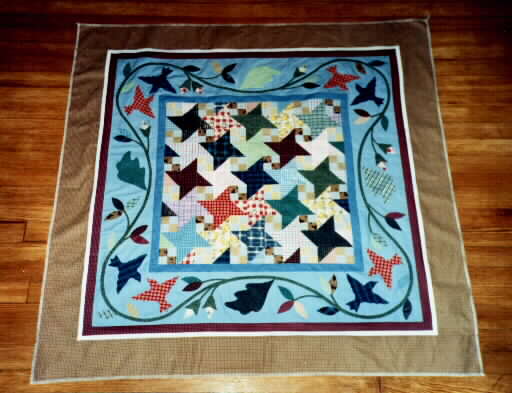 Return to Home Page
© 2007; Pumpkins and Roses Baby Jane Blocks-
Updated January 21, 2007 ;Pumpkins and Roses Quilting Gallery-